This project is funded by 
The European Union 
Този проект се финансира от Европейския съюз

EU Phare Program "DEINSTITUTIONALISATION THROUGH TO PROVIDE SERVICES TO THE COMMUNITY FOR RISK GROUPS"

BG 2004/016-711.01.02-3.2.70

 

Establishment and operation of the "Daytime Care Center with a protected home and public information center for people with severe psychiatric disorders"

 

 

 

State Psychiatric Hospital 
Tzerova Koria, Veliko Tarnovo region 
Държавна психиатрична болница с.Церова кория, Veliko Tarnovo municipality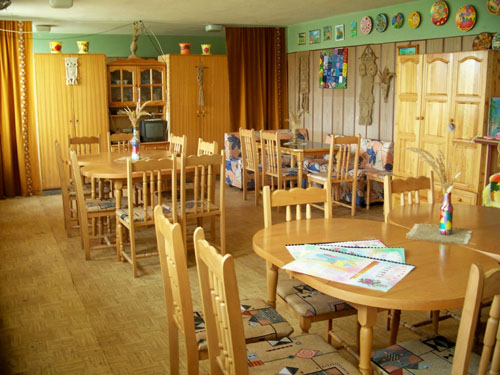 Our goals:
Providing comprehensive medical rehabilitation.

Providing social rehabilitation.

Expanding opportunities and incentives for employment.

 Providing opportunities for individual and group activities at leisure (sports, recreation, tourism, participation in cultural life).

Regulation of a clear mechanism for constant monitoring of compliance with the rights of people with psychiatric disorders and discrimination. 


Program of  "Daytime Care Center"
Monday to Friday from 07.30 to 15.30:
Training for acquiring social skills

Training for acquiring job skills

 Kinesitherapy / Sports

Working in the creative workshop

Create a household skills

 Individual psychotherapy

Group psychotherapy

Training for acquiring social skills
Provided free transport.
Breakfast and lunch for free in the food complex.
Criteria for admission to a Day Care Center :
Day Care Center customers are people with chronic mental illness in remission, covering criteria MKB 10 - F20, F30-39, F10-19.

Age - 18 to 65 years.

The client is not a serious physical disabilities and severe somatic conditions that hinder his social functioning.

The client must be able to deal alone  with   part of everyday life.
 Application Documents Required : - direction of a psychiatrist.
For more information : 
State psychiatric hospital
Tserova Koria  , Veliko Tarnovo
tel / fax (359) 612 6419
Information Center 
GSM: (359) 885 228 258